Factions
















Affiliates








Does the page look strange?
Try viewing it in Mozilla Firefox. A free, fast and highly customizable web browser that supports the scripting of this and numerous other web sites. Try it out here!


HARAD

WARRIORS OF THE SOUTH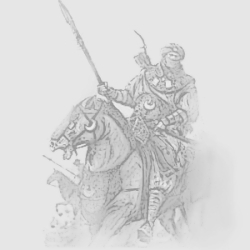 In the hostile wastelands of Harad live the ancestors of the Black númenoreans, sworn enemies of Gondor. In search for vengeance, their lords have now decided to join forces with the Dark Lord of Barad-Dûr. Trained in the ways of secrecy and ambush, the merciless warriors from the south are a foe to be reckoned with.


The Haradrim bring many different infantry types to the field, with half trolls and mumakils to support them. They also have assasins and some stealthed units.


| Unit | Type | Building | Cost | CP | Image |
| --- | --- | --- | --- | --- | --- |
| Haradrim Swordsmen | Basic Infantry | Haradrim Warhall | - | - | - |
| Haradrim Lancers | Support Infantry | Haradrim Warhall | - | - | - |
| Haradrim Spearmen | Support Infantry | Haradrim Warhall | - | - | - |
| Haradrim Archers | Archers | Haradrim Warhall | - | - | - |
| Haradrim Raiders | Light Cavalry | Haradrim Palace | - | - | - |
| Black Serpent Guard | Hero Horde | Haradrim Palace | - | - | - |
| Hâsharin | Hero Assasin | Haradrim Palace | 1500 | 50 | - |
| Half Troll Pikemen | Siege Horde/Pikemen | Creature Pen | - | - | - |
| Half Troll Sworsmen | heavy infantry | Creature Pen | - | - | - |
| Mûmakil | Siege | Creature Pen | - | - | - |
| Corsair Pillagers | Support Unit | Tavern | - | - | - |
| Corsair Raiders | Support Unit | Tavern | - | - | - |
Hero
Cost
Abilities
Image
Mahûd Chieftain
3000
Mount (lvl 1): The Mahûd Chieftain mounts a mumakil
Charge (lvl 1): Crushes all enemys in the mumakils path
Leadership (lvl -): +??%
Pillage (lvl -): +??%

-
Castamir
2000
Axe Master (lvl -): -
Climb Wall (lvl -): -
Leadership (lvl -): -
Pillage (lvl -): -
Throw Bomb (lvl -): -

-
Suladan
-
Leadership (lvl -): -
Glorious Charge (lvl -): -
Snake Venom (lvl -): -

-